A new partnership has strengthened the case for a cooperative research centre focussed on solving one of Australia's most complex and challenging issues – a sustainable Murray-Darling Basin.
The Riverina and Murray Joint Organisation of 11 NSW local government councils in the southern Basin has partnered with the ONE Basin CRC, bringing a wealth of regional knowledge and a positive whole-of-basin approach to the table.
The proposed ONE Basin CRC is a focused collaboration using innovation to develop policy, technical and financial solutions to tackle climate, water and environmental threats to the Murray-Darling Basin.
Professor Mike Stewardson, ONE Basin's Interim CEO, welcomed RAMJO as a non-research partner to the bid team which brings communities, industry and researchers together to manage climate and water risks in the Murray-Darling Basin.
"We are pleased to welcome RAMJO as a Tier 3 partner in our bid to establish a co-operative research centre and regional innovation hubs. RAMJO has the ability to link our programs directly to community and industry stakeholders across an expansive area and we are looking forward to their contribution."
Cr Chris Bilkey, Chair of RAMJO's Water Sub-Committee and Mayor of the Murray River Council, said both groups had a desire for practical action to improve the basin.
"ONE Basin's objectives align with several of our regional strategic priorities, and an important aim for both our groups is a whole-of-basin approach to improving water security in the Murray-Darling Basin.
"Both our groups are working with the agricultural industry on issues like water trading and better farm water management practices. Finding ways to improve agricultural productivity through diversification, innovation and reduced reliance on water-thirsty crops is a high priority issue for both ONE Basin and ourselves.
"RAMJO has recently released a Water Position Paper that calls for action on water security and helping agriculture adapt to a low-water environment. We have recommended creating science-driven hubs throughout the Basin to focus on innovation, adaptation and productivity in our primary production.
With Australia's natural lifeline at stake, ONE Basin and RAMJO are looking forward to connecting community leaders and agricultural specialists with Australia's foremost water researchers in a science-driven approach to securing a future for the Murray-Darling Basin.
Read the RAMJO Water Position Paper
To read about One Basin CRC and its objectives visit https://onebasin.com.au
​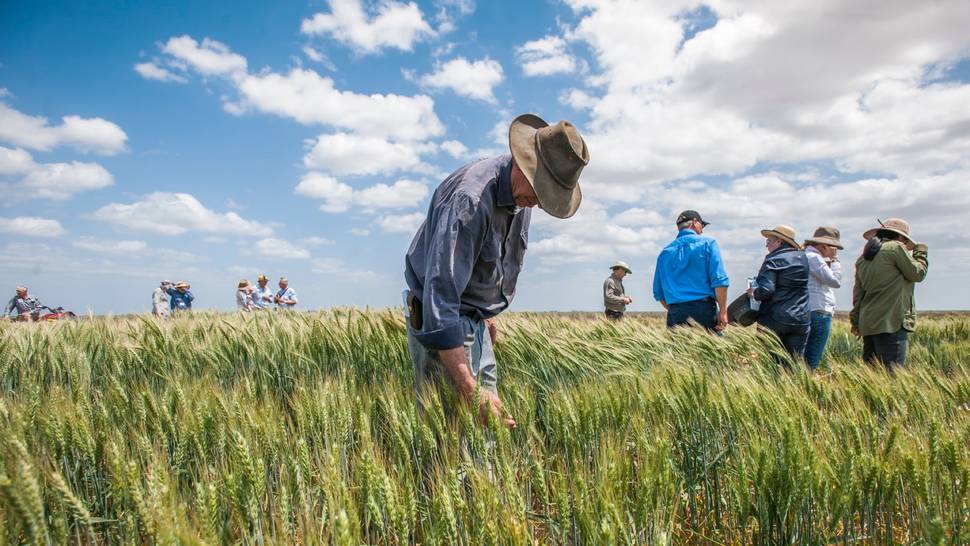 One Basin CRC Tier 1 partner, University of Southern Queensland investigating a wheat crop experimentation. Image courtesy of Mr David Martinelli.